Earlier this month at the Florida Restaurant & Lodging Association "Hospitality Stars of the Industry" gala event, surrounded by our Executive Team and General Managers, our Chief Executive Oyster John Horne was sworn in as the 2023 Chair of the Board of Directors of the FRLA.
It's truly an honor to have the opportunity to represent and advocate for the hospitality industry in this way.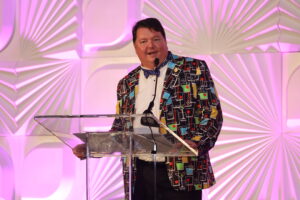 The Gala was the crown jewel of several days of meetings, plus our annual industry trade show, where restaurateurs and hoteliers from all over the state can enjoy samples from various vendors, culinary demonstrations, education sessions, networking, and more. The FRLA Show has become Southeast's Largest Food and Beverage Experience and it's always a great opportunity for our executive team and GMs to learn about trends and new best practices. 
During one of our meetings, John Horne was presented with a proclamation from the Florida Department of Business and Professional Regulation recognizing his outstanding achievements throughout more than 25 years of service as an entrepreneur and restaurateur for the residents and visitors of the great state of Florida.
What an incredible opportunity for Oysters Rock Hospitality to be positioned on the leading edge of our industry, the best industry in Florida! 
"It's an incredible honor to lead our organization for a year, and I am especially looking forward to 2023 being the "Year of S.P.F."! Why that theme? Well, anyone who knows me, knows that shorts are my preferred dress code. And our industry is the greatest industry in Florida, so with the expert team of staff and Board members leading the way, we will ensure there's enough money in our PAC Fund to ensure that Florida remains the greatest place to live, work and have FUN. We're in the business of helping our guests have fun, after all…and we have fun doing it…especially when dressed in shorts!" – John Horne